12/04/12 - Foundry Artists Holiday Show
Please join me at the Pawtucket Armory to shop for affordable heirloom gifts. All items creatively crafted in the USA.
12/04/12 - Adam J Carriuolo Silkscreen Prints Featured in Rhode Island Monthly's Home Design magazine
http://digital.turn-page.com/t/15673 (see page 8)
10/08/11 - Adam J Carriuolo Silkscreen Prints Featured in National Magazine
The Fall issue of Style 1900 includes a short article on Adam J Carriuolo Silkscreen Prints. Pick up your copy today!
11/04/10 - iVillage features Block Island print in a story about craft items and state pride
http://www.ivillage.com/show-your-state-pride/7-b-292257
11/03/10 - Newport Casino print to be sold through the International Tennis Hall of Fame
The Newport Casino Print is now being made available through the International Tennis Hall of Fame Shop
http://www.tennisfamestore.com/
The Hall of Fame shop is also planning to make available a postcard featuring the design.
10/20/10 - Turk's Head Building print to be sold exclusively through WaterFire
Adam J Carriuolo Silkscreen Prints and WaterFire have arranged to make the Turk's Head Building print avalable exclusively through the WaterFire website and at WaterFire events in Providence. Go to waterfire.org for more information.
Art Fair Schedule for 2010:
October 9th - 11th - Scituate Art Festival, Scituate, RI
I believe this year's Scituate Arts Festival may have been the most well-attended that I've exhibited at. I think there must have been a total of well over 100,000 visitors over the three days of the show. The weather was spectacular, especially given that it was early October. The new Turk's Head WaterFire print actually sold out (of what I had brought) and a couple folks went home from the show and ordered the print from the website.
August 28th - 29th - Newport Arts Festival, Newport, RI
This year was my first at The Newport Arts Fesival. Although business was a litle slow, the show itself was extremely well run and included very entertaining and original musical acts and a variety of food and other family entertainments. The show is organized by and run for the support of Looking Upwards, a non-profit agency committed to helping children and adults with disabilities lead fulfilling lives.
I was honored to to be awarded with the 2nd place prize for the show, and another lovely red ribbon!
July 10th - 11th - Wickford Art Festival, Wickford, RI
I was pretty anxious about Wickford this year. The weather did not look promising, and I was situated at a new booth space after having been at the same spot on West Main St. for the first 2 years. Although we did get a couple downpours on Saturday, this did nothing to keep people away from the festival. I ended up having the best show ever, and I sold 27 prints. The most gratifying sales are to folks who have bought prints from me before, and have come back for something new, or else have seen my work, but had to think about it for a year or so before taking the plunge. That's when I know my work is resonating with the people who see it. My new spot on Main St. may be one of the most beautiful at the festival, and I don't think I'll be giving it up soon.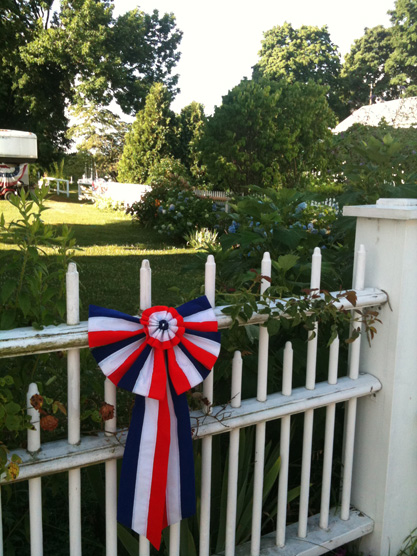 June 26th - 27 - Narragansett Art Festival, Narragansett, RI
Even though this festival can be a little spotty in terms of attendance, it's still the most magnificent setting between the famous Towers and Narragansett Pier Beach. Saturday was extremely quiet, but Sunday was gangbusters! This seems to be a common pattern here. I was fortunate enough to win a 2nd place ribbon for Drawings and Graphics. That was a pleasant surprise, since I had never won a ribbon before. I had a nice space underneath this cozy spruce.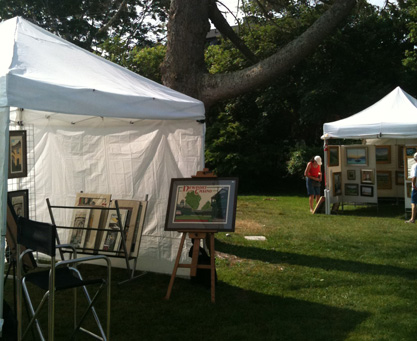 May 29th-30th - Virtu Arts Festival, Wilcox Park, Westerly, RI
This was my second year at Virtu Arts in the beautiful setting of Wilcox Park. With just a single new piece from the previous year I was not expecting a great weekend, but I was pleasantly surprised to sell 15 pieces at this show, compared with just 8 my first year. The new WaterFire print made a big splash and was the most popular piece for the weekend. As always, I was able to have many wonderful conversations with the fine folks who stopped into the booth.
September 14, 2006 - Narragansett Times, Timeout section
Local artist pays tribute to RI architecture - by Kim Iemma
NARRAGANSETT - Adam Carriuolo is an artist living in Rehoboth, Massachusetts with his wife Karen and two young children. Timeout recently caught up with him after a trip to Block Island where he was taking photographs for the current series of posters he's creating, each commemorating the work of esteemed architects McKim, Mead, and White. (There are no MMW designed buildings on Block Island that I'm aware of-AC)
Timeout: What work have you completed in the series, and what's to come?
A.C.: I've completed three of the four posters in the "McKim, Mead, and White in Rhode Island" series. I'm just starting on the poster of the Rhode Island State House, and expect to have the series completed around Thanksgiving. After the MMW series is complete, I'll be moving on to a couple of Block Island works done in a vintage travel poster format. Those pieces will feature the Spring House and the Southeast Lighthouse.
Timeout: How would you describe the style of art you're working in?
A.C.: It's really a mishmash of style, subject, and presentation. The style can almost be considered comic book, or animation cel, or pop art (as a stretch). It's extremely bold, simple, and graphic. It's really typical of the medium of silkscreen. The subject matter is distinctly vintage. I pay homage to historical architecture and the visionaries responsible for its presence and impact in our culture. The presentation so far has been a contrivance of sorts. It reads as if there were a seminar on the subject somewhere. Actually it's meant as a tribute, to proclaim the historical context of these architectural works and their creators. Other works may be more similar to vintage travel posters.
Timeout: What is the step-by-step process of creating a poster?
A.C.: My workflow is pretty straightforward with the occasional variance. Normally I'll go take pictures of the building, create a small freehand pencil sketch using the photos as a reference, scan the sketch into the Adobe Illustrator computer drawing program, and trace it. After a little tweaking of the line weights I start to play with color. That's when the process is the most fun. After I settle on the colors, I print out each color separation to a film positive, which is just clear film with black ink where the color is supposed to print. I then expose that film onto a silkscreen frame that's been treated with an emulsion. After exposure I wash out the unexposed areas and I have my stencil. I do this for each color, and in the case of the MMW prints that's either five or six. Then I print the posters one color at a time by pushing ink through the stencil with a squeegee. I can usually print one color per hour onto fifty posters.
Timeout: What brought you to focus on McKim, Mead, and White architecture?
A.C.: I first got the idea on a trip to Newport a few years ago. I had brought my camera and wanted to take some pictures of the mansions and the Casino. I took some pictures of the Bell House, the Casino, Kingscote, etc. It wasn't until later on that I started to connect the dots between these buildings and the State House, Rosecliff, Narragansett Pier Casino, and more. All these impressive spaces, so critical to Rhode Island's image of itself, all so distinct from each other, had been designed by the same firm, during the same time period. McKim, Mead, and White's work, and others, had begun to emerge from the shadows for me, all the while having been in plain sight.
Timeout: There's sure to be local interest in the MMW series, have you started selling the completed posters?
A.C.: I have sold a few pieces on eBay, one on Gigposters.com
Timeout: Going forward, will you continue in the same medium?
A.C.: For the longest time as an artist, I feared I had nothing to say. I also felt that were I able to find something to say I would lack the language to communicate it. If you ask my wife, she'll tell you that I had the hardest time completing creative projects. My drawer is full of unfinished drawings, watercolors... I carried a huge acrylic painting around for ten years from apartment-to-apartment and house-to-house while it remained three quarters finished. Finally last year at about the time I was finishing up the Narragansett print, I pulled the canvas off its frame, folded it up, and tossed it in the trash, and I have never looked back. I feel as if I have found that medium and that message. Someone once quoted Andrew Wyeth as telling a young artist, "If you're going to go somewhere, go deep." I'm going deep.